"Mirage"



This week's DaDane features a portrait of a female fawn from Florida named Alex. Alex and her sister Molly were regular visitors to DaDane of DaWeek. They viewed this site through Web TV. Their favorite picture was Fugitives, which features a fawn with two monkeys.



Unfortunately both Alex and Molly passed away in September within a few weeks of each other. They would have been eight years old in February. This picture is a tribute to them both, and a tribute to the beauty of the fawn Great Dane.



If you would like to see a special animated version of this image, click here. The file is 390K; it will take some extra time to download.


(DaDane of the week is updated every Monday with a new illustration and story.)

These drop-down menus should work with all browsers.
If you experience a problem, please visit the hypertext-based Archives & Directory.



- Recommended Links -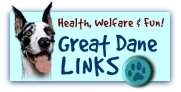 DaDane's "Great Dane Links" now offers over 700 links, sorted by category for easy browsing. Categories include health & welfare, breeding & genetics, clubs & organizations, rescue resources, breeder directory, and personal pet sites. New links are added every Monday.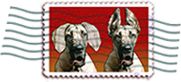 Free DaDane Postcards!
There are 80 electronic postcards now, including the most recent DaDane pictures. Send someone a DaDane postcard. It's virtually free! Also available: E-male postcards and FeMail postcards.

Elizabeth's Page was recently updated. Please pay a visit.