"Leon Redbone"



Meet Leon Redbone, a genuine redbone coonhound. He needs a home. For the past 8 weeks he has lived harmoniously with us -- and with our two Great Danes. This is his story:


On March 13, 1999, I was driving down an isolated country road in the middle of South Carolina. There was a movement up ahead. As the car drew closer, I was surprised to see an emaciated red dog standing at the side of the road. He was pawing through trash that was probably thrown from a passing vehicle. This was the skinniest (and reddest!) dog I had ever seen. I just knew he was special.



I stopped my car and got out. The little red dog looked up, wagged his tail once and dropped to the ground, quivering. I gently picked him up, carried him to the car and placed him on the back seat. He lay exactly where I put him and he never shifted during the long drive home. Instead he lay frozen, following me with his eyes, silent and afraid.



Arriving home, the little red dog had to be carried to his temporary shelter, a fenced-in area with a makeshift doghouse. He was too afraid to walk there on his own. Our two Great Danes, Merlin and Jabber, bounced along the fence-line eyeing the red stranger, trying to catch his scent, and barking to tell him he wasn't wanted, he didn't belong.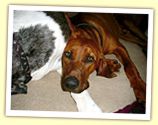 Inside the pen, "Red Dog" cowered near the doghouse. (I doubt he had ever seen dogs as big as Merlin and Jabber.) When offered food, he ate as if he hadn't eaten for weeks, which probably wasn't too far from the truth. As I put the food bowl down for his very first meal with us, he looked up and licked my hand. Then he started eating greedily. About halfway through the feeding, he suddenly stopped. He came over to me, wagged his tail and nuzzled my hand; I patted his head. Satisfied, he returned to his bowl and wolfed down the rest of his kibble.



Later, when I left Red Dog alone in the pen, he began to howl. It was a pitiful, haunting sound. I turned back. As soon as he saw me his tail started wagging and he quieted down. By then it was getting dark. It was starting to rain. Red Dog was trying to tell me he didn't want to be left alone -- he didn't want to spend the night by himself, an outcast among strangers, with only a ramshackle doghouse for protection. I didn't want that either, but I couldn't risk exposing our pets to this unknown "stray" until he'd been checked out by our trusted veterinarian.



So poor little Red Dog spent that first night frightened and alone. And he was none too quiet about it, either. The next day we were off to the vet...



Click here for Part 2. In the meantime, if you -- or anyone you know -- might be interested in adopting this unusual (and wonderful) red boy, please email Ginnie (that's me) at ginnie@ginnie.com.


(DaDane of the week is updated every Monday with a new illustration and story.)

These drop-down menus should work with all browsers.
If you experience a problem, please visit the hypertext-based Archives & Directory.


- Recommended Links -
DaDane's "Great Dane Links" now offers over 700 links, sorted by category for easy browsing. Categories include health & welfare, breeding & genetics, clubs & organizations, rescue resources, breeder directory, and personal pet sites. New links are added every Monday.

Free DaDane Postcards
There are 95 electronic postcards now, including the most recent DaDane pictures. Send someone a DaDane postcard. It's virtually free! Also available: E-male postcards and FeMail postcards.

DaDane T-shirts
Your favorite DaDane postcard pictures are now available on t-shirts, turtlenecks, and sweatshirts. Please visit our DogWare website to see the latest designs. These shirts make great gifts!