"Leon's Story, Part 2"



Last week we introduced Leon Redbone, who's pictured above with my two Great Danes. We are fostering this beautiful redbone coonhound until we can find him a permanent home. He is very special. This is Part 2 of Leon's story: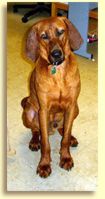 Taking Red Dog to the vet proved to be an interesting assignment. He wouldn't walk on a leash. As soon as he felt the tug on his collar, he collapsed to the ground. Maybe he'd never worn a collar before. Surely he'd never been on a leash. I had to carry him to the car. That was hard. He was skinny, yes, but he was surprisingly heavy.



When we arrived at the clinic, the vet tech came out to the car and carried Red Dog into the examining room. Our veterinarian, Dr. Warren, took one look at the dog and said, "Well, it looks like you've found yourself a genuine redbone coonhound." Eureka! I knew he was a pure "something" but I didn't know what. (If you want to read about the redbone coonhound breed, click here.)


The first order of business was to weigh Red Dog. I was surprised to see that he weighed 57 pounds. He looked much skinnier. Initial examination showed him to be in good health. "He's an intact male, somewhere between two and three years of age. His coat is good. He can't have been on his own for more than a couple of weeks," she told me. I asked Dr. Warren if she had any theories as to why he collapses and freezes when frightened. "If I had to guess," she said, "I'd say he was beaten while restrained. He probably learned that if he became completely submissive, the beating would end sooner."



Poor little Red Dog! How could anyone mistreat such a sweet animal? Well, no one would ever hurt him again. We'd make sure of that.



The rest of the examination went smoothly. Red Dog was heartworm negative (thank goodness!) but he had a bad case of whipworms and hookworms. He was treated for the parasites and given standard canine inoculations, including a rabies shot. His badly torn dew claws needed to be clipped and dressed. Ouch. That was going to hurt.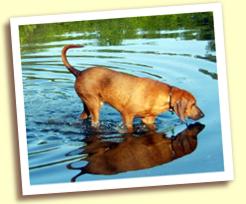 I decided to board Red Dog at the clinic for a few days to allow him to rest. In the meantime, I would look for a suitable home. If none could be found, he'd come home with me and we'd introduce him to Merlin and Jabber. We would foster him as long as necessary, but I knew we couldn't keep him. Our county permits only two dogs per household, otherwise we'd have to get a kennel license. More importantly, my husband had already made it quite clear that our two Great Danes were more than enough "residential canine real estate." That was his limit. Adding a third dog was out of the question.



Click here for Part 3. Please email ginnie@ginnie.com if you think you might be interested in adopting Leon.


(DaDane of the week is updated every Monday with a new illustration and story.)

These drop-down menus should work with all browsers.
If you experience a problem, please visit the hypertext-based Archives & Directory.


- Recommended Links -
DaDane's "Great Dane Links" now offers over 700 links, sorted by category for easy browsing. Categories include health & welfare, breeding & genetics, clubs & organizations, rescue resources, breeder directory, and personal pet sites. New links are added every Monday.

Free DaDane Postcards
There are 95 electronic postcards now, including the most recent DaDane pictures. Send someone a DaDane postcard. It's virtually free! Also available: E-male postcards and FeMail postcards.

DaDane T-shirts
Your favorite DaDane postcard pictures are now available on t-shirts, turtlenecks, and sweatshirts. Please visit our DogWare website to see the latest designs. These shirts make great gifts!