"Leon's Story, Part 3"



Two weeks ago we introduced Leon Redbone, our resident "rescue" dog. He's a redbone coonhound who gets along very well with Great Danes. We are fostering him, but he needs a permanent home. We thought we had found him one, but unfortunately it didn't work out. We are still trying to place him. This is Part 3 of Leon's story: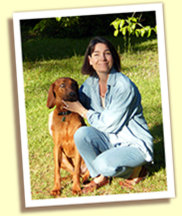 After boarding for five days at the vet clinic, Red Dog had recovered from his ordeal. It was time for him to leave. I hadn't found anyone to adopt him, but I was optimistic that a good home could be found. In the meantime, we would foster him.



According to the vet, our little redbone coonhound had adjusted well to being kennelled. One of the vet techs had taken an interest in him and worked to help him overcome his shyness. Red Dog emerged from the kennel with his head held high. He was even walking on a leash! He went right to the car and climbed in.



Red Dog's homecoming caused quite a stir. Merlin and Jabber were anxious to meet him, but the introduction needed to be handled carefully. As soon as everybody settled down, I allowed our Great Danes to slowly approach the red dog. As the giant dogs drew closer (this time without a fence for a barrier) Red Dog slid to the ground and rolled onto his back, exposing his belly. There was a thorough sniffing. Finally the two Great Danes decided he could get up. Within minutes all three dogs were romping around the yard. For the first time since I'd picked him up on that lonely country road, Red Dog seemed completely happy.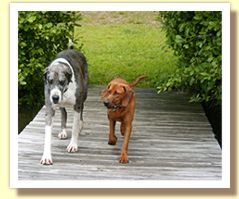 But there were still some obstacles. Coaxing Red Dog to come in the house took several hours. He acted as if the doorway was going to clamp down on him and eat him up. Within a day, though, he learned to come and go just like Merlin and Jabber.



Red Dog had never seen a dog toy, and at first he didn't know what to do with them. He soon learned that they were fun to chew, even more fun to rip apart, and that certain ones squeak. He discovered it was possible to walk right over to the toy box (a plastic clothes hamper stuffed with goodies), tip it over, and grab the squeakiest of the squeaky toys. He also demonstrated that certain toys, particularly those resembling bones, must be buried in the yard. This was news to Merlin and Jabber, who wondered why many of their favorite toys were suddenly missing.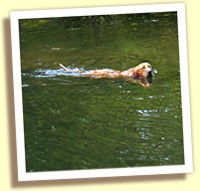 He's a quick study, but teaching Red Dog to swim took some effort. We have an 8 acre pond in our front yard. Red Dog was afraid of it at first. He'd watch our two Danes wade into the water for a drink. Soon Red Dog would drink from the pond, too -- but with all four feet planted firmly on the shoreline. I couldn't coax him to step into the water. The turning point came when some friends visited with their two retrievers. Red Dog watched with great interest as the visitors splashed and played in the water. He watched with obvious fascination as one of the dogs repeatedly swam into the middle of the pond to fetch sticks. Soon after they left, Red Dog walked into the pond, ankle deep. It wasn't long before he was running in shallow water up and down the shoreline. He seemed to like the splashing sensation. Within a few days Red Dog was eagerly fetching sticks in deeper water, something neither Merlin nor Jabber will do. They won't go in over their heads.



I didn't get around to telling you why we changed Red Dog's name to Leon. It will have to wait until the next installment. Hopefully we'll wind up Leon's story by then, too. If you are interested in adopting Leon, please email ginnie@ginnie.com for details.


(DaDane of the week is updated every Monday with a new illustration and story.)

These drop-down menus should work with all browsers.
If you experience a problem, please visit the hypertext-based Archives & Directory.


- Recommended Links -
DaDane's "Great Dane Links" now offers over 700 links, sorted by category for easy browsing. Categories include health & welfare, breeding & genetics, clubs & organizations, rescue resources, breeder directory, and personal pet sites. New links are added every Monday.

Free DaDane Postcards
There are 95 electronic postcards now, including the most recent DaDane pictures. Send someone a DaDane postcard. It's virtually free! Also available: E-male postcards and FeMail postcards.

DaDane T-shirts
Your favorite DaDane postcard pictures are now available on t-shirts, turtlenecks, and sweatshirts. Please visit our DogWare website to see the latest designs. These shirts make great gifts!