If you are a regular visitor to DaDane of DaWeek, you probably noticed that this week's DaDane is stylistically a little different from its predecessors. Using Adobe Photoshop and working in layers with several filter effects, I developed something that looks more like an illustration than a photograph. If you pass your cursor over the portrait, you will see the original photographic image which is hiding just beneath it. Which do you prefer? My vote goes for the top illustration.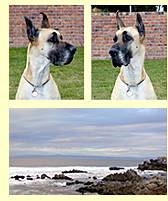 I'm often asked how I go about creating a DaDane portrait. This week's portrait was pretty simple. I worked with two separate photos of Gambler. I cut him out from the background and placed both head studies on a seascape background. Both photos of Gambler, shot with a digital camera, were provided by his owner, Paula Stebbins. The seascape photo was taken (by me) at a beach in Monterey, CA. (See the insets at the right.) After I assembled the three photos, I started fiddling around with filters and layers until I got the effect I was looking for.

Enough about technique, what about the dog?
Okay. Gambler belongs to my good friend Paula Stebbins in Lake Charles, Louisiana. He is 3 1/2 years old. Gambler isn't the only Great Dane in the house. He shares Paula's attention with his older "stepsister" Maggie, who has appeared on DaDane of DaWeek many times. (Maggie played the role of
Mrs. Willy
in the Squirrel-Gate series.) This is Gambler's first appearance on DaDane of DaWeek. Paula can tell you a little more about him. Needless-to-say, he's a typical Dane:

"For all of his great size, Gambler is the biggest baby in the world. He runs around the house with his stuffed hedgehog in his mouth, proudly displaying the cherished toy to anybody who will give him attention. Guests are often greeted at the door by a hedgehog propelled directly into their face! When he thinks I am spending too much time on the computer, Gambler comes up behind me and lays the hedgehog on my left shoulder – then he plunks his head down on my right shoulder. If that doesn't get immediate attention, he starts knocking my hands off the keyboard by sticking his head under my elbow and tossing my arm in the air.

Since Gambler became part of the family over 2 years ago, I haven't needed to set an alarm clock except for a couple of occasions when I had to get up in the middle of the night to catch an early flight. He is at my bedside promptly at 5:30 every morning. If I tell him to go back to bed, he does... for 5 minutes. Then he's right back in my face. (Not much different than the snooze bar on an alarm clock!) It's pretty useless to try and make him go back to sleep, so our day always gets off to an early start. By now I am used to it.

Despite his eccentricities, Gambler is very attentive and obedient. He's also extremely affectionate. In direct contrast, Maggie is much more independent, headstrong and reserved. It is so funny to come home from work and be greeted at the door by a calm and cool Maggie who watches in disgust as Gambler spins in circles, squealing with joy at seeing me again. Each Great Dane is just so special. I can't imagine life without them!"


---
This Picture Is Now Available
To order this illustration on a t-shirt or sweatshirt, go to www.DogWare.com

---

These drop-down menus should work with all browsers.
If you experience a problem, please visit the hypertext-based Archives & Directory.


- Recommended Links -
DaDane's "Great Dane Links" now offers over 1000 links, sorted by category for easy browsing. Categories include health & welfare, breeding & genetics, clubs & organizations, rescue resources, breeder directory, and personal pet sites. New links are added every Monday.

Free DaDane Postcards
There are 95 electronic postcards now, including the most recent DaDane pictures. Send someone a DaDane postcard. It's virtually free! Also available: E-male postcards and FeMail postcards.

DaDane T-shirts
Your favorite DaDane postcard pictures are now available on t-shirts, turtlenecks, and sweatshirts. Please visit our DogWare website to see the latest designs. These shirts make great gifts!