Last week you were introduced to a Great Dane named Gambler. (Click here if you missed it.) This week's portrait is yet another view of Gambler. I used our flowering azalea bushes as a backdrop. This is the peak week for our azaleas and dogwoods. Now that spring is finally here, we are anxiously awaiting the arrival of the ruby-throated hummingbirds. They typically return during the first week of April and they're usually very hungry after traveling such a great distance. We have their food ready and waiting.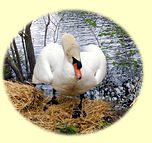 Meanwhile, our pet swans (Mr. Big and Charlotte) have started their breeding season. Mr. Big has put Merlin and Jabber on notice. There will be no wading in the pond without permission. Mr. Big is patrolling the shoreline and he rules with an iron wing. For the next month, whenever the dogs stray into his territory, Mr. Big will notify them in no uncertain terms. An angry hiss, a sharp peck on the ankle and a furious slap of the wing will quickly remind them that Mr. Big rules the roost.


---
This Picture Is Now Available
To order this portrait on a t-shirt or sweatshirt, go to www.DogWare.com

---

These drop-down menus should work with all browsers.
If you experience a problem, please visit the hypertext-based Archives & Directory.


- Recommended Links -
DaDane's "Great Dane Links" now offers over 1000 links, sorted by category for easy browsing. Categories include health & welfare, breeding & genetics, clubs & organizations, rescue resources, breeder directory, and personal pet sites. New links are added every Monday.

Free DaDane Postcards
There are 95 electronic postcards now, including the most recent DaDane pictures. Send someone a DaDane postcard. It's virtually free! Also available: E-male postcards and FeMail postcards.

DaDane T-shirts
Your favorite DaDane postcard pictures are now available on t-shirts, turtlenecks, and sweatshirts. Please visit our DogWare website to see the latest designs. These shirts make great gifts!