March 12, 2001 – For the past two week's I have been telling you about a surgical procedure called Tibial Plateau Leveling Osteotomy (TPLO). It is a highly specialized surgery that "redesigns" the internal structure of the canine knee. It is usually performed to address a crippling cruciate ligament tear or a complete cruciate failure. It is most often performed on large or giant-breed dogs because traditional cruciate surgery often is not entirely successful for that segment of the canine population.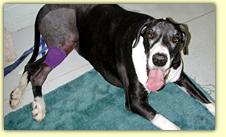 Jabber's First Surgery
Our Great Dane, Jabber, recently underwent TPLO surgery, in Charleston, SC. Last week I described the surgery and told you it had been successful. Initially it was. Unfortunately, three and a half days after surgery something went terribly wrong. Jabber was in pain. His leg was swelling and there was a lot of bleeding under his skin. X-rays indicated that two of the top three screws in the plate assembly, which was holding his bones together, had backed out. This was shocking news. I had just visited Jabber the day before. He seemed okay, although he was not very happy. I spent some time with him and took pictures. When I got home, I put together a short slide show to chronicle his first days of recovery. The next morning Jabber's surgeon, Dr. Paul Shealy, phoned me with the bad news. Jabber was going to require another long surgery. Dr. Shealy was not sure exactly what he would find, but he told me he was confident he could handle whatever he encountered. Unfortunately Dr. Shealy was at his Savannah clinic, so Jabber's surgery would have to wait until Dr. Shealy returned to Charleston the next day. Poor Jabber!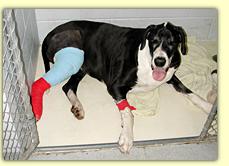 Jabber's Second Surgery
When Jabber's leg was reopened, Dr. Shealy discovered that the bone had cracked along the screw line of the top three screws. That's why the screws had backed out. How could this happen? Our best guess is that Jabber experienced some kind of fall and landed on his leg. It might have happened overnight in his kennel. If the split bone was not the result of a fall, then there is probably a bone problem which may reappear later. (Hopefully that is not the case.)



As expected, Dr. Shealy found that the tibia head had significantly shifted due to the trauma. He removed the plate and put the two pieces of bone back in the "jig" and rotated the head to reset the angle. Since there was so much damage to the original screw area, he could not use that portion of the bone. Instead he applied a new plate facing in the opposite direction. Dr. Shealy told me he feels he got a very solid attachment. He also reinforced the split with another plate to stabilize and protect that portion of the tibial head. He's optimistic that Jabber can have full and complete recovery. It will just be a bit slower than most.




Our Visit
I visited Jabber on Friday, two days after his second surgery. He is staying in the 24/7 emergency clinic (the surgical center) instead of being moved over to the physical therapy center. (Normally Dr. Shealy's TPLO dogs are moved over to the PT center where they live for five days while getting their scheduled therapy.) Jabber will remain there until he's ready to come home in a week to ten days. He is being closely supervised to make sure he does not re-injure his leg. Two people together assist him in getting up and down for potty, etc. (He weighs 175 pounds!) The physical therapy that usually begins at the PT center on the third day post surgery will still take place, but the therapists will come to Jabber and do it all right there at the emergency clinic.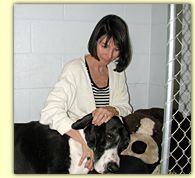 Jabber seems very comfortable and he is in good spirits. He was actually more relaxed during my second visit than he was when I visited him for the first time at the PT center. I brought him his favorite giant teddy bear and fed him treats, which he eagerly devoured. All this, just two days post-surgery! As soon as Jabber's incision stops draining he can have his regular bed back. (Right now he is sleeping on a blanket.) The staff is very nice to him. Sometimes as they pass his kennel they greet him and he wags his tail. The enclosure is centrally located so he can watch the staff as they prepare other dogs and cats for surgery. Jabber's leg is padded and bandaged more extensively than it was after the first surgery. Dr. Shealy is not taking any chances. So far he has maintained a perfect record of successful TPLO surgeries and he is doing everything possible to ensure that Jabber makes a full recovery.



Click here for slide show or Go to next installment...


---
DaDane of DaWeek t-shirts & sweatshirts
are available at www.dogware.com
---

These drop-down menus should work with all browsers.
If you experience a problem, please visit the hypertext-based Archives & Directory.


- Recommended Links -
DaDane's "Great Dane Links" now offers over 1000 links, sorted by category for easy browsing. Categories include health & welfare, breeding & genetics, clubs & organizations, rescue resources, breeder directory, and personal pet sites. New links are added every Monday.

Free DaDane Postcards
There are 95 electronic postcards now, including the most recent DaDane pictures. Send someone a DaDane postcard. It's virtually free! Also available: E-male postcards and FeMail postcards.

DaDane T-shirts
Your favorite DaDane postcard pictures are now available on t-shirts, turtlenecks, and sweatshirts. Please visit our DogWare website to see the latest designs. These shirts make great gifts!