He didn't believe me. I told him over and over, "Merlin, leave those frogs alone". But did he listen? Nooooooo, not Merlin. I warned him. I said, "Merlin, you keep messin' with those frogs, you gonna start lookin' like em." But did he listen? Nooooooo, not Merlin. He just kept sniffin' those frogs.

---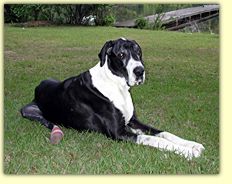 Update on Jabber
Things are looking better! Jabber underwent five days of physical therapy at Dr. Shealy's clinic in Charleston. I picked him up this weekend and he was much stronger. He is now able to rise on his own if necessary, although we usually assist him. He is far more ambulatory and easy to manage. He still needs a lot of sling assistance to walk around and he tires pretty quickly, but he can drag his "bad" leg more easily and sometimes he actually uses the leg to steady himself. Mr. Big has been banished to our new "swandominium" (ie: swan-jail) until a suitable home can be found. Jabber is now free to visit the front yard and sit down by the pond, just like the old days. Unfortunately his urinary tract infection seems to have come back with a vengeance. I don't know how his caregivers failed to notice that he is passing cloudy wine-colored urine. No mention was made of it when I picked him up and it was quite a shock when Jabber took his first potty break. It looks like he'll have to go back on antibiotics. Despite the infection, Jabber is eating well and he seems quite chipper. In a couple of days he'll go back to Charleston for more therapy, but right now we're enjoying each and every day we have together at home.
Next Installment
(See last week for more details about Jabber's case.)


---
DaDane of DaWeek t-shirts & sweatshirts
are available at www.dogware.com
---

These drop-down menus should work with all browsers.
If you experience a problem, please visit the hypertext-based Archives & Directory.


- Recommended Links -
DaDane's "Great Dane Links" now offers over 1000 links, sorted by category for easy browsing. Categories include health & welfare, breeding & genetics, clubs & organizations, rescue resources, breeder directory, and personal pet sites. New links are added every Monday.

Free DaDane Postcards
There are 95 electronic postcards now, including the most recent DaDane pictures. Send someone a DaDane postcard. It's virtually free! Also available: E-male postcards and FeMail postcards.

DaDane T-shirts
Your favorite DaDane postcard pictures are now available on t-shirts, turtlenecks, and sweatshirts. Please visit our DogWare website to see the latest designs. These shirts make great gifts!