June 6, 2001 – It's been awhile since I've featured Jabber on DaDane of DaWeek. He is taking a "vacation" from physical therapy for a couple of weeks (due to a failed TPLO operation) and staying home with us full-time. He has made good progress insofar as he is able to walk on his own now for very short periods of time. Unfortunately his leg muscles tire easily and this causes him to drag his feet. After the last four-day stint of therapy at the rehab clinic he came home with some of his toenails ground down to bloody nubs. It was obvious that Jabber needed serious foot protection, but let me tell you, it's not easy to find Dane-size boots. I found these terrific boots at www.neopaws.com. NeoPaws manufactures attractive, rugged outerwear for dogs. (If you are interested in any type of outerwear for your Dane, including lifevests, please visit their site. They were great to work with.)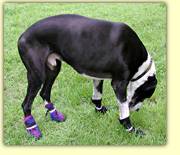 To tell you the truth, Jabber is not too wild about his new boots. His disability makes it difficult for him to lift his rear legs enough while walking to accommodate the new tread on his feet. We're working on that.



Another infection threatens...
There's another reason Jabber is staying home. He developed a chronic urinary tract infection back in early April. It's a drug resistant E. coli bacteria and it is causing us some real concern. Jabber's strain of E. coli was sensitive to Chloramphenicol for awhile, but after several weeks of treatment it became resistant to the drug. We had to switch to Cephalexin. Unfortunately Jabber had a horrible (you don't want to know) reaction to the Cephalexin, so we switched him to Baytril. After three weeks on the Baytril, Jabber started passing blood again. His urine was collected and cultured. The E. coli was back in high numbers. This time it was resistant to almost the entire panel of antibiotics. The only oral medication left for us to try was Clavamox. Jabber's been on Clavamox for four days. If it doesn't knock out this tenacious strain of E. coli, he could be in serious trouble. I am watching him very closely and making sure that he drinks lots – and I mean lots – of water. He is being taken out for frequent potty breaks to empty his bladder of the bacteria. I am also giving him concentrated cranberry capsules. His urine will be sampled and cultured on the fifth day to see where we stand. We will continue to sample on a regular basis.



If the Clavamox fails, there are some intravenous antibiotics we can try but they are pretty "mean." They can actually destroy the kidneys. Jabber would probably have to be readmitted to the vet school at the University of Georgia for treatment. He would need constant care and monitoring. Please keep your fingers crossed for Jabber. He really is at high risk right now. After everything he's been through, losing him to a urinary tract infection seems unthinkable.



Fortunately Jabber seems to feel just fine. He's cheerful and eating well. He wants to do more than he is capable of doing. I can tell it frustrates him that he can't walk more than twenty steps without being assisted by the ever-present sling, but he is accepting his disability with good grace. He wants to get better and he is trying hard.
Next Installment
(See previous for more details about Jabber's case.)
Mr. Big is gone


On another note, we finally found a new home for Mr. Big. This weekend we took him to a 65-acre pond and let him go. He was released on a trial basis. There are eleven homes on the pond. The neighborhood association agreed to try him out, but if he behaves too horribly he will be sent back to us. We kept his mate, Charlotte, and his daughter, Claudia. The theory is that Big may lose his aggressiveness if he doesn't have a family to protect. Charlotte doesn't seem to miss him at all. They say swans mate for life, but since Charlotte was a "mail order" bride, perhaps she never really liked him all that much. She seems perfectly happy spending all her time with Claudia, who is now full-grown. When I left Mr. Big this afternoon, he appeared very much at home in his new pond. It's a lovely location. His new owners have decided to change his name to Slog-o. (Don't ask.) He never answered to "Mr. Big," so I am sure the name change won't faze him. Besides, he thinks all human beings are idiots.
---
DaDane of DaWeek t-shirts & sweatshirts
are available at www.dogware.com
---

These drop-down menus should work with all browsers.
If you experience a problem, please visit the hypertext-based Archives & Directory.


- Recommended Links -
DaDane's "Great Dane Links" now offers over 1000 links, sorted by category for easy browsing. Categories include health & welfare, breeding & genetics, clubs & organizations, rescue resources, breeder directory, and personal pet sites. New links are added every Monday.

Free DaDane Postcards
There are 95 electronic postcards now, including the most recent DaDane pictures. Send someone a DaDane postcard. It's virtually free! Also available: E-male postcards and FeMail postcards.

DaDane T-shirts
Your favorite DaDane postcard pictures are now available on t-shirts, turtlenecks, and sweatshirts. Please visit our DogWare website to see the latest designs. These shirts make great gifts!