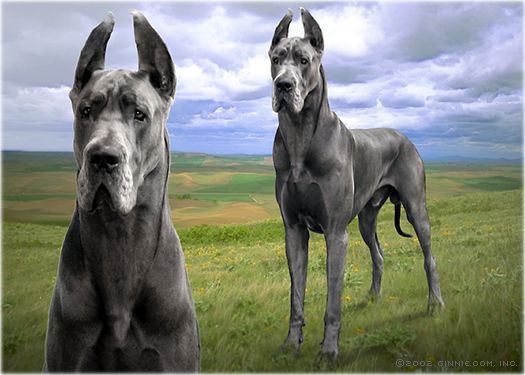 January 14, 2002 – This is a double portrait of Ch. WYSIWYG's Lothario v Longo. Some of you may recognize "Luca" from the show circuit and others may recognize him from previous appearances on DaDane of DaWeek. Even though he is not quite two years old, Luca has racked up an impressive résumé. Things began rolling in October, 2000, when Luca won Best of Futurity at the GDCA National Specialty. He continued to show, winning multiple Best in Sweeps and achieving his US Champion title – with four majors – in June 2001. Three months later, Luca was exhibited in back-to-back Canadian Specialty shows, the Great Dane Club of Canada Specialty and the Great Dane Fanciers Association. He took Winners Dog and Best of Winners on Day 1 and Winners Dog on Day 2, earning 10 points in two days. The following month Luca won an Award of Merit at the 2001 GDCA National Specialty Best of Breed judging.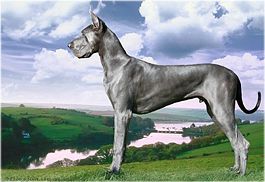 Shortly thereafter, Luca and his sister Diva traveled to St. Louis to compete in a three-day International show. Both dogs earned the highest ratings possible at each show. They are now International Champions. Obviously, Luca likes to compete. As Martha Stewart might say, "And that's a good thing!" because Luca's next big appearance will be at America's most prestigious dog show – Westminster.



Westminster Kennel Club
Most of you are familiar with Westminster Kennel Club's annual all-breed show. It takes place in Madison Square Garden Center, New York City. This year's show will be held on Monday and Tuesday, February 11th and 12th. Show hours are from 8:30am to 11:00pm each day. It is open to the public. Tickets can be purchased by phone at 212-307-7171 or online at TicketMaster. They can also be purchased at the Madison Square Garden Box office in person.



Over 2500 dogs representing 158 breeds will be competing in this year's event. Only one dog will take home the coveted title, Best in Show. To date no Great Dane has ever won Best in Show at Westminster.
Once the show gets underway, Luca will be exhibited in the Breed competition. The Great Dane breed falls under the category of Working Group. Luca will compete against 10 to 20 other Great Danes for the Breed title. The winning Dane will go on to challenge 15 to 20 other dogs, each of whom will have won their own breed in the Working Group. The dog that wins the Working Group title will move forward to compete against the six other Group winners from the following groups: Herding, Sporting, Non-sporting, Hounds, Terriers and Toy. Finally, after two days of rugged competition, just one dog will stand alone in the center of the arena: Best in Show at Westminster.



USA Networks will be televising Westminster again this year. Best of Breed judging will not be aired; the network will cover Best of Group judging beginning at 8pm eastern time on February 11. According to the schedule, Breed winners from the Working Group will be the first to step into the ring. You can bet I'll be watching!
---
©2002-2008 by Ginnie Saunders. All rights are reserved. No part of this web site may be reproduced or transmitted in any form or by any means — electronic or mechanical, including photocopying, recording, or by any information storage or retrieval system — without written permission from Ginnie Saunders. To learn more about copyright issues on the web, visit the Web Law FAQ.






Ginnie.com, Inc.
PO Box 50314
Columbia, SC 29250
(803) 783-3169
www.ginnie.com