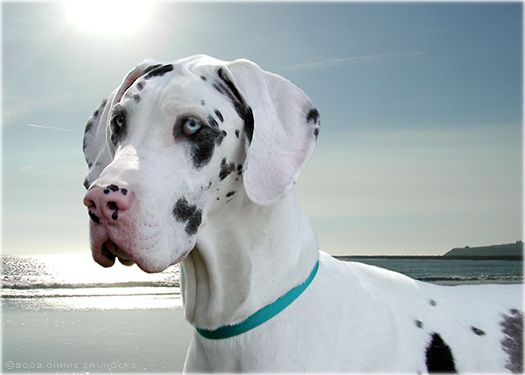 February 11, 2002 – Meet Miss "Fanny Bannany," the original party-girl, according to her breeder, JP Yousha of ChromaDane fame. Fanny, whose registered name is CHROMA Forever Mardi Gras CD TDI CGC, lives in Connecticut with her human family, the Arsenaults. She is three years old.



About Fanny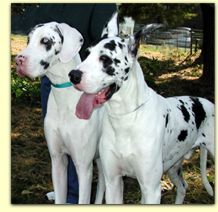 Although she is first and foremost a beloved family pet, Fanny is not one to sit around on her ...umm... fanny. Indeed, Miss Fanny-Bannany-Mardi-Gras leads a very busy life. Not only does she spend her valuable time watching over the human members of her household (Judi and Al Arsenault and their six kids), Fanny also supervises two brindle Greyhounds and another harlequin Great Dane, two-year-old Joe. And when she isn't keeping track of her extended family, Fanny is busy pursuing her education. She earned her CD (Companion Dog) obedience title before she was two years old and she is now working towards her CDX (Companion Dog Excellent) obedience title. Fanny is a certified Canine Good Citizen and an active Canine Therapist through Therapy Dogs International. In her spare time, she is training to compete in Agility.



Fanny, who has been spayed and is on Limited Registration, is proof positive that you don't have to be a "show dog" to have a fun – and fulfilling – performance career. Many people enjoy pursuing Obedience titles with their Danes. Others just love competing in Agility events. Still others enjoy the quiet satisfaction of brightening the day for residents of nursing homes and/or hospital patients with a scheduled Therapy visit.



Related Links:
For those of you who may be interested in participating in performance sports with your pet Dane, you can join the Giant Performance mail list. This is a list where you'll meet others who are training Great Danes – and a few other giant breed dogs – for performance activities ranging from obedience and agility to tracking and fly-ball. (To see some really neat photos of Danes competing in Agility, click here.)



Below are some good links for information about various training activities you can enjoy with your Great Dane:
---
©2002-2008 by Ginnie Saunders. All rights are reserved. No part of this web site may be reproduced or transmitted in any form or by any means — electronic or mechanical, including photocopying, recording, or by any information storage or retrieval system — without written permission from Ginnie Saunders. To learn more about copyright issues on the web, visit the Web Law FAQ.






Ginnie.com, Inc.
PO Box 50314
Columbia, SC 29250
(803) 783-3169
www.ginnie.com