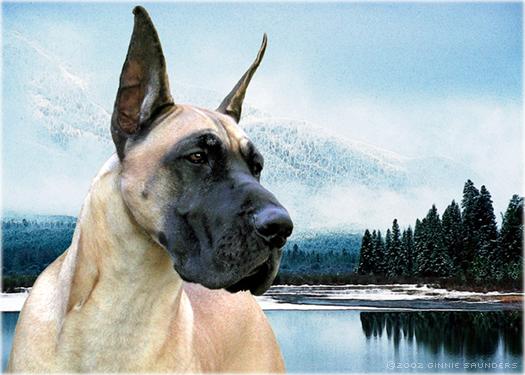 – What's in a Name? –
February 25, 2002 – This two-year-old fawn Great Dane, Helen, definitely lives up to her registered name, Ch. Harley D Hardt's "Hell On Wheels." Bred by Stephanie Gallups and Tonie Gerhardt, owned and loved by Karen and Greg Quatman, Helen rules the wild kingdom from her rural home in Maryland.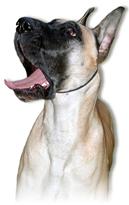 I first met Helen at the 1999 GDCA National in California when she was just a pup. She was memorable even then, not only for her deep, shiny black mask, but for her exuberant pursuit of other puppies for fun and games. Helen was ready to rock!!!



Her energy level has not diminished one iota as she's matured.



According to Karen, "Helen works very hard every single day trying to live up to her name. She's an athlete on a quest... a tomboy with a sense of humor... the great fawn huntress... queen of squirrel-stalking... keeper of the property. Helen believes it is her job – indeed, her mission in life – to ensure that all chipmunks, groundhogs, possums and raccoons obey the imaginary No Trespassing sign that Helen has posted on her multi-acre Magic Kingdom. She's an outrageous creature with an immeasurable zest for life. She's happy, funny, affectionate and clever. We love every square inch of our 'Hell on Wheels' – even though she drives us crazy now and then."



(Wanna bet the chipmunks, squirrels, groundhogs, possums and raccoons aren't nearly so fond of her?)
---
©2002-2008 by Ginnie Saunders. All rights are reserved. No part of this web site may be reproduced or transmitted in any form or by any means — electronic or mechanical, including photocopying, recording, or by any information storage or retrieval system — without written permission from Ginnie Saunders. To learn more about copyright issues on the web, visit the Web Law FAQ.






Ginnie.com, Inc.
PO Box 50314
Columbia, SC 29250
(803) 783-3169
www.ginnie.com