– Weezie's Walkies –
By Louise Peterson


September 23, 2002 – You are looking at a bronze sculpture by one of my favorite contemporary artists, Louise Peterson. This is the first time I have promoted another artist's work on DaDane of DaWeek, and I am pleased to do so. Louise is a very accomplished sculptor who often uses the Great Dane as her subject matter. I am a great admirer of her work.
Widely Exhibited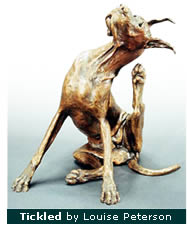 Originally from England, Ms. Peterson has been an actively exhibiting artist in the United States since 1998. Her bronze and pewter sculptures have been selected to appear in competitive juried art shows all across the country. This year alone Ms. Peterson's work has garnered 7 awards in less than 9 months. Her bronze sculpture "Tickled" was recently accepted into the National Sculpture Society's Annual Awards Exhibition – a very prestigious show – and it went on to win the show's Beverly Hoyt Roberston Memorial Award. (Wow!) "Tickled," along with the rest of the show, will be on display for five months. If you live in or near South Carolina, you can see it at Brookgreen Sculpture Gardens in Pawleys Island until October 27. The exhibition will then move to New York City, where it will be on display at the Park Avenue Atrium in midtown Manhattan until February 14. The show can also be viewed online at NSS Annual Awards for a limited time.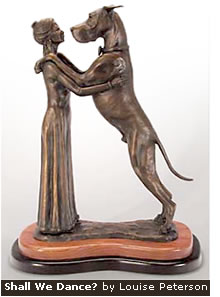 Artist's Statement
"I began sculpting the human figure while living and working in Los Angeles. When I moved to the rural mountains of Colorado, the only model in my ranch studio was my blue Dane, Nandi, so I started to sculpt her. Nandi has been a constant source of inspiration to me. Sometimes regal, often goofy, always adorable, she strikes poses so numerous that I haven't even begun to capture them all.



Now I've added a second muse, a young fawn named Bella. (I wanted a fawn so I could see the muscles and bones without the distraction of patterns and color.) I consider myself very lucky to have found the most amazing subject, the Great Dane. There is no other dog that is so beautifully formed in size, musculature, folds of skin and expression – and then they do incredibly inspiring things. I am never short of ideas, only my time and bank account limit me. Creating these sculptures makes my heart sing and I hope to inspire smiles in anyone who has known the love of this beautiful breed. I donate a portion all my sales to non-profit rescue groups helping Great Danes less fortunate than my own."
Louise's Web site
Louise Peterson maintains a very nice Web site at www.danesculptor.com where you can view (and purchase) her bronze, pewter and cast stone sculptures. If, like me, you are interested in keeping tabs on Louise, you can subscribe to her "announcement" mail list in which you will get monthly updates on her newest works, exhibition schedule and other tidbits. To be included, just drop her a line at louise@danesculptor.com.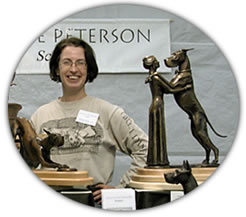 Those of you lucky enough to attend the 2002 GDCA National Specialty in Kentucky next month can see Ms. Peterson's work in person. Louise is proud to be a sponsor of this year's Great Dane National and she will have a vendor's booth in the main exhibition hall. (That's Louise in her booth at last year's National.) Vendor space is always tight, so the number of sculptures that can be displayed is fairly limited. It might be a good idea to stop by the booth at the beginning of the show to ensure the widest selection possible. If you know ahead of time that you'd like purchase a particular pewter or bronze, I'd suggest you contact Louise in advance to make sure she will have the piece available for you. None of her cast stone pieces will be in stock at the National unless they've been pre-ordered. Of course, all of Louise's sculptures can be ordered at her booth for later shipment and delivery.



I enjoy all of Louise's sculptures, but my personal favorite is "Shall We Dance."
---
©2002-2008 by Ginnie Saunders. All rights are reserved. No part of this web site may be reproduced or transmitted in any form or by any means — electronic or mechanical, including photocopying, recording, or by any information storage or retrieval system — without written permission from Ginnie Saunders. To learn more about copyright issues on the web, visit the Web Law FAQ.






Ginnie.com, Inc.
PO Box 50314
Columbia, SC 29250
(803) 783-3169
www.ginnie.com