— "Great Dane Room" Gathering —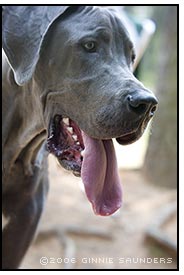 June 19, 2006 – Saturday I attended a fun event that was sponsored by members The Great Dane Room, a large online community of Dane lovers. Although I am not a member of the GDR, I was pleased to be invited to their annual gathering, which this year was held at a large open-air pavilion at Reedy Creek Park in Charlotte, NC. (Each year the two-day picnic is held in a different part of the country to encourage a wide range of participation.)
The weekend weather was perfect and attendance was high. Some of the participants had traveled to Charlotte from as far away as Colorado,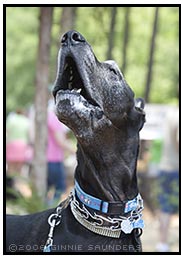 Pennsylvania and Vermont! I counted forty Great Danes of various ages, sizes and colors. I lost count of the people, but they outnumbered the Danes by at least two-to-one. I was struck by the relaxed friendliness of both the people and their dogs. To my knowledge, none of the Danes in attendance were show dogs; they were simply happy pets with devoted owners. Many had come to their homes through rescue. Most of the dogs exhibited a high degree of socialization. In fact, I didn't hear one growl or see a single curled lip during my four-hour visit. All of the dogs were well supervised and kept on leads, but active mingling was encouraged. There was a lot of sniffing and endless tail-wagging.
I asked a board member to give us some background information about the group. Here's what she wrote:
"The Great Dane Room began, and has continued, as an online community for Great Dane lovers. You don't need to own a Dane to love one, and The Great Dane Room is open to all who love danes. The board is six years old and it's grown by leaps and bounds. We have over 1300 members!
As our group began to grow we realized that providing solid information regarding Danes was a necessity, so we established a Dane Library for members to access a wide variety of topics. We also developed a rescue board, and some of our members are active participants in The Dane Train, an organization that provides invaluable transport assistance for various Dane rescue groups.

We understand the pain that is experienced when someone loses a Dane so we have a special board, the Healing Board, where they can freely discuss their losses with others. In addition, we created a place called Memory Garden where people can memorialize their lost danes in photo albums. We also offer a place for members to post their own photo albums featuring their current Danes and family members.

Our chat room is open at all times to the membership and there are several scheduled chats where we have lively conversations and lots of fun interacting. We have a feature called Dane of the Week where each member can tell us the story of their Dane. We offer Dane theme photo contests such as 4th of July, Christmas, favorite couch, Mothers Day and Back-to-School. The photos are great, and great fun for all the participating families.

We enforce a strict NO LITTER SALES policy to prevent puppy millers from using the forum to sell their litters and profit from the misery they leave behind. Our management team devotes a lot of time and effort to ensure that the GDR remains a safe, fun and informative forum – one that continues to offer great camaraderie to those who love Great Danes."
I threw together a little photo album of photos from the picnic. Click here if you'd like to see the pictures. Please be patient, though, as it takes a little extra time for the album to load.
---
©2002-2008 by Ginnie Saunders. All rights are reserved. No part of this web site may be reproduced or transmitted in any form or by any means — electronic or mechanical, including photocopying, recording, or by any information storage or retrieval system — without written permission from Ginnie Saunders. To learn more about copyright issues on the web, visit the Web Law FAQ.






Ginnie.com, Inc.
PO Box 50314
Columbia, SC 29250
(803) 783-3169
www.ginnie.com