— Lifesize "High Four" Installed at Cleveland Park —
September 26, 2007 — It's good to be back. For the past month I've been juggling travel, work projects/deadlines and house guests. I wasn't able keep all the balls in the air — DaDane of the Week was dropped, along with a few other things. I can't recall the last time I missed 3 consecutive installments. It hasn't happened in 10+ years.

High Four
Louise Peterson visited us September 13-16. She had flown to Columbia, SC, from her home in Guffey, Colorado to attend the dedication of her beautiful life-size (54") bronze, High Four, at Cleveland Park in Greenville, SC. We drove to Greenville on the 15th and got there just in time for Louise to take the podium. The dedication attracted quite a crowd. Before unveiling High Four, Louise addressed the audience as television and newspaper reporters recorded the event. She was later interviewed on camera for an evening news broadcast.
Pictured above is Mary Hipp, project fundraiser, with her niece, Camilla; Knox White, Greenville City Mayor; Louise Peterson herself; and Paul Ellis, Director of Greenville City Parks. Below are a few more photos: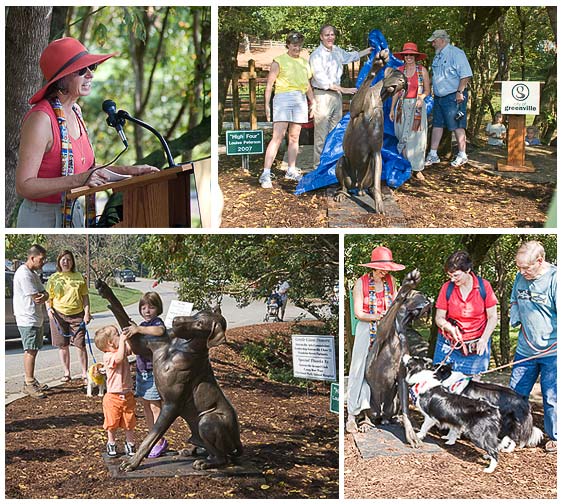 The acquisition of High Four was a community effort. Donors included the Greenville Arts Commission, Greater Greenville Chamber of Commerce Leadership Class 32, Franklin Street Partners, with help from the Greenville Kennel Club, Camp Bow Wow and the Cleveland Park Animal Hospital. Click here for more information about the project.
---
©2002-2008 by Ginnie Saunders. All rights are reserved. No part of this web site may be reproduced or transmitted in any form or by any means — electronic or mechanical, including photocopying, recording, or by any information storage or retrieval system — without written permission from Ginnie Saunders. To learn more about copyright issues on the web, visit the Web Law FAQ.






Ginnie.com, Inc.
PO Box 50314
Columbia, SC 29250
(803) 783-3169
www.ginnie.com