"Willy's Woes"



Do you solemnly swear to tell the Truth, the whole Truth and nothing but the Truth so help you God?



I DO.



Please state your name.



WILLY.



Willy, did you see the Squirrel?



YES, I SAW THE SQUIRREL.



Did you want the Squirrel?



UMMM...



Now Willy, you must answer the question.



YES, I WANTED THE SQUIRREL.



Did you chase the Squirrel?



WELL, YES, I WENT AFTER IT.



Now Willy, this is very important. Did you actually catch the Squirrel?



SQUIRREL? WHAT SQUIRREL?


I ASSURE YOU THERE IS NO IMPROPER RELATIONSHIP WITH A SQUIRREL.


(Some claim the Squirrel started it by going after Willy, but this has not been confirmed. The Squirrel has not been seen in public for several weeks. Rumor has it Willy ate the Squirrel. If so, we hope he had a good recipe for Squirrel Stew.)

See the next installment
---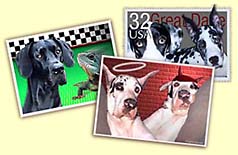 "DaDane of DaWeek" Virtual Postcards
This picture is available as a virtual postcard!
There are 55 cards now, including all the most recent DaDane pictures.
Send someone a virtual DaDane "Willy" card. It's virtually free!