March 26, 2001 – By now most of you might be tired of seeing Jabber's face every week, so I'd like to introduce you to DJ. He's eleven months old and he lives in Roanoke, Virginia, with his 5-year-old Dane stepsister Elektra and his human Mom, Wendy Mellenthin. Right now DJ is spending time at the clinic in Charleston with Jabber. He is undergoing physical therapy to overcome lameness due to a knee injury. He is making good progress. Last week DJ had his very first swimming lesson. Rumor has it he excelled in Doggy Paddle class. Unfortunately, DJ and Jabber don't get to spend any time together because DJ is living in the rehab building and Jabber is in the hospital. Whenever I visit Jabber, I always drop by to see DJ. He is a lovely dog with an exceptionally gentle and sweet disposition.

Earlier Installments...

Week #1: See Jabber and learn all about TPLO.

Week #2: Jabber's first surgery. How it went and what's ahead. Also, meet Merlin. He misses Jabber.

Week #3: The first surgery failed. What went wrong and what was done in the second surgery. A slide show of Jabber at the hospital.

Week #4: The second surgery failed. Drastic measures are called for.
Update on Jabber
Things are not going well. Jabber has a bone infection. Bone samples were taken during the third operation and sent off to a laboratory for evaluation. The results came back a week later. Jabber's bones are infected with two organisms. The first is a gamma strep and it is treatable. The second is a drug-resistant strain of gram negative bacteria called Acinetobacter baumanii. This is what's known as a super bug. It was cultured and subjected to twenty four different antibiotics. It showed sensitivity to just six of them. (Interestingly, there was no indication from the samples that Jabber has poor bone quality, so the reason for his failed TPLO surgery remains a mystery.)



Treatment
Jabber's doctor, Dr. Shealy, is out of town this week so I am getting my information from the veterinarian in charge, Dr. Pernell. Apparently most of the antibiotics that might be able to help Jabber, such as Neomycin and Amikacin, are potentially quite dangerous and can themselves be life-threatening. Jabber has been started on an oral antibiotic called Geocillin. The oral form is poorly absorbed. The drug has a rapid elimination half-life, so attainable serum (blood) levels are generally too low to treat systemic infections. The Geocillin might hold the bacteria at bay for awhile but it is not likely to eliminate it. So far a suitable treatment for Jabber hasn't been found. He is doing fine right now, but if the Acinetobacter baumanii gets the upper hand, Jabber will die.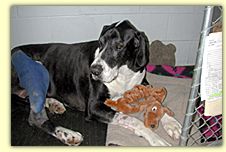 Jabber remains in good spirits
Despite his problems, Jabber seems pretty content. There is some draining from the drill holes; his leg is swollen and warm to the touch, but he doesn't seem to be experiencing any additional pain. He gets excited when I visit. He slaps me with his paws and makes happy sounds. (You know the kind.) He snuffles me looking for treats, which by now he has come to expect. It's hard to believe that he is so close to the edge.



I will be updating this page as soon as more information comes in. I am not ready to give up on Jabber and we are investigating all options.



Latest Update
University of Georgia College of Veterinary Medicine has just agreed to take Jabber on as a patient. We will be transporting him tomorrow morning (March 27). Stay tuned.
---
DaDane of DaWeek t-shirts & sweatshirts
are available at www.dogware.com
---

These drop-down menus should work with all browsers.
If you experience a problem, please visit the hypertext-based Archives & Directory.


- Recommended Links -
DaDane's "Great Dane Links" now offers over 1000 links, sorted by category for easy browsing. Categories include health & welfare, breeding & genetics, clubs & organizations, rescue resources, breeder directory, and personal pet sites. New links are added every Monday.

Free DaDane Postcards
There are 95 electronic postcards now, including the most recent DaDane pictures. Send someone a DaDane postcard. It's virtually free! Also available: E-male postcards and FeMail postcards.

DaDane T-shirts
Your favorite DaDane postcard pictures are now available on t-shirts, turtlenecks, and sweatshirts. Please visit our DogWare website to see the latest designs. These shirts make great gifts!