– Caesar Revisited –
February 10, 2003 – Back in March, 2002, I told you about a young black Great Dane rescue who was being cared-for by the Mid-Atlantic Great Dane Rescue League. His name was Caesar. Caesar was crippled and needed a hip replacement. MAGDRL was working very hard to raise money to pay for the surgery. Within months, generous donors had contributed – in Caesar's name – a whopping $6000! Those funds enabled Caesar to undergo hip replacement in July ($4000), and they also covered a full course of rehabilitative swim therapy ($450). The remaining monies ($1550) were used to help cover medical expenses for MAGDRL's other rescues.



Caesar is doing great and he is now ready for adoption. According to his foster-mom, Debby Rahl: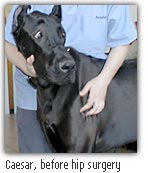 "Two-year-old Caesar is such a special dog. He steals the hearts of everyone who meets him. Now that he's well, Caesar needs a forever-home. It should be noted that he will always walk a little funny. His other leg is permanently bowed because it had to support most of his weight during his growth period. This effects his gait. He gets around just fine, although he doesn't do very well on stairs or bare floors. Caesar walks well on a leash and loves to go for walks. He is mainly a 'people-dog.' He can play with other dogs, but really needs to be an only dog because he becomes very attached to his people. He considers them a resource that he doesn't want to share with other dogs. He lived with a cat in his previous home and did fine with it.



I want to emphasize that Caesar is a dream-dog when it comes to people, and he is extremely good with small children. Last month he spent 12 hours at the MCI Center in Washington, DC, attending the HSUS PetFest. Throughout the day, Caesar was surrounded by a HUGE crowd with children on all sides petting him. He loved the attention. Most of the time he just lay on the floor and let everyone come to him and pet him all over. At the end of the day, he was still seeking people out for attention.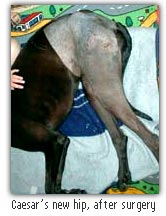 I also think that he is Maramaduke, come-to-life. He has a very Marmaduke personality (with goofy ears!) Caesar scared himself very badly last week by emitting a loud fart as he sat down. This required him to jump right up and stare at the floor. Because he is so tall – 42 inches at the shoulder – Caesar likes to counter-cruise, a habit we are trying to break. Often he will quietly sit behind me and watch while I eat my dinner. A few times I've felt my shoulder get wet when he snuck too close and started drooling. Remember the cartoons showing Marmaduke's legs going in all directions? This fits Caesar to a tee. He is not the most coordinated Dane in the world. (Caesar wasn't the one that knocked down our Christmas tree this year, though!)



As much as we've come to love Caesar, we know it is time to let him go. Though we'll miss him, it's time for him to have a permanent 'forever' home in a one-dog household where he can get all the attention and love he deserves."



If you are interested in adopting Caesar, please contact Debby Rahl.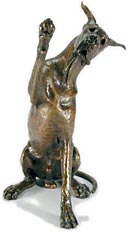 High Four Auction
Two weeks ago I told you about the "High Four" bronze sculpture being auctioned on Ebay to benefit a Great Dane rescue named Droopy. The auction, which proved very successful, ended with a high bid of $1025. Thanks to the generosity of the artist, Louise Peterson, all proceeds from the sale are going directly to MAGDRL to help with Droopy's medical expenses. (More info)
Remember Murphy?
Some time ago I did a story about Murphy, who was born and raised in Vietnam but left behind in the care of friends when his American owner was transferred back to the United States. No airline was willing to transport such a large dog from Vietnam to the US, so Murphy had to remain in Saigon.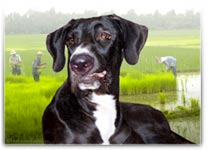 I am happy to report that Murphy and his owner, David Lowe, have been reunited. David writes, "Well, I've been back in Vietnam for a year now, and Murphy, the Great Dane you featured in June 2001, 'Stranger in a Strange Land,' is going on six. He is as spirited as ever, acting puppy-like most of the time and still enjoying his bamboo grove and watching the exotic birds (and occasional, unwise cat!) come into his garden. He's getting a bit gray now, but still has clear eyes and a good memory. I'm back here in Saigon, permanently now, working for a tour company (DiscoverMekong.com). I am doing well. Just as before, Murphy spends weekends flopped at my feet when I'm working on the computer. He still enjoys a healthy diet of de boned fish, rice, chicken, vegetables and beef. He is in very good shape, especially for his age. Thanks again for publishing his story."
New Commenting System
Just for fun, I am trying something new. Visitors to this site can add their own comments and observations. It is pretty easy to use. Simply click the link below to view existing comments or add your own. I added this feature to the last six "DaDanes" as well. I hope this new commenting system proves to be something everyone can enjoy.