– WE'RE HOME! –
September 27, 2004 – After six busy days in Japan, our ship left Kobe and began the long journey back to the United States. It would take the Explorer almost two weeks to reach Seattle, our final port. Upon arrival we would say tearful goodbyes to all the wonderful friends we'd made, gather up our luggage, and scatter to our various homes all across the country. Leaving would be difficult. Over the past two months a strong sense of community had developed among the students, faculty, staff and crew. We had experienced something very special together and we had grown in the process. Returning to our previous lives would be a challenge.
When it came time to walk down the gangway for the very last time, I didn't want to go. I didn't want to leave the comfort of the ship and more importantly, I didn't want to leave the wonderful people who had so quickly become an important part of my daily life. But the voyage had ended and staying behind was not an option.
Where's Merlin?
While we were traveling, many visitors to this web site expressed concern about our nine-year-old Great Dane, Merlin. Comments were posted asking where he was, who was looking after him, did I miss him, etc. Dear old Merlin was well-cared for in our absence. Our veterinarian, Dr. Nori Warren, and her husband, Will, kept Merlin at their home. Nori has looked after Merlin ever since he was a puppy and she is the best veterinarian we've ever had. Her generous offer to keep him for the summer was a huge relief. I knew he could not be in better hands.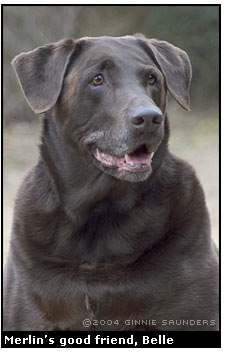 A week before we left town, Merlin moved in with Nori, Will, and their 11-year-old chocolate lab, Belle. We moved him early because we wanted to make sure he settled in without any problems before we actually set sail. When Merlin arrived, poor Belle was still grieving the loss of three of her elderly companions. The household had shrunk from four dogs to one in a very short period of time. Belle had outlived them all. She was lonely and depressed. At first Belle simply tolerated Merlin, but before long they became good friends and Belle's mood improved. I know Merlin enjoyed having another dog to hang around with all day. He also enjoyed sleeping in the master bedroom every night, something he is not allowed to do at our house. He quickly became a neighborhood celebrity, too, due to his large size. He got plenty of exercise and often traveled to the Warren's lake house on weekends. Spending the summer at "Camp Warren" was a great experience for Merlin. I think his presence also helped the Warrens, and especially Belle, adjust to life without the other three dogs.
Did I miss Merlin? Actually, not at all, although I expected to. I knew he was comfortable, happy, and living under the care of a superb veterinarian. I didn't worry about him. I didn't worry about anything at home. I was elsewhere, living in a glorious bubble, traveling the world on a remarkable ship with remarkable people, and stopping at remarkable places.
Homecoming
Our arrival home was low key. I still wanted to be on the ship. I was also very tired and had a sore throat. The house sitters left the house tidy, so that was a relief. Merlin was still at Nori's. Our three cats, who had remained behind, looked healthy. So did the houseplants. The grass needed mowing, and badly. There were huge piles of mail to go through, numerous bills to pay. We needed groceries, we needed to unpack, and most of all, we needed to sleep. I slept a lot that first week and tried to get used to being back in the States. Merlin came home and picked up where he left off, cheerful as ever. It was good to have him back. I felt like I was moving in slow motion for awhile. Part of me was still on that ship. It took a couple of weeks to settle into my former life.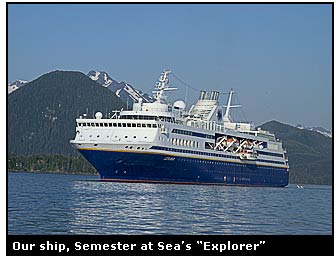 I'm often asked to describe my favorite port. I tell people it was the ship. The Explorer was definitely my favorite "port." All the stops we made in all the countries were indeed wonderful and I would be hard-pressed to pronounce one port superior to another. Each was different and taught me different things. Each presented its own challenges and rewards. I would not have wanted to forego any of them. The one constant source of sheer pleasure, however, was the ship. I loved the people. I loved the discussions. I loved the classes. I loved the faculty. I loved the students. (Some of them, anyway.) I loved the staff. I loved the crew. And perhaps most surprisingly, I loved the sea. I thoroughly enjoyed the twelve uninterrupted days at sea when we were steaming our way from Kobe to Seattle – the ever-changing sky, light and water; the endless procession of seabirds, dolphins and whales.
I was never bored on the Explorer. The biggest frustration was the fact that there were so many options for quality things to do. If there were several good programs offered concurrently in the evening (which was often the case) it was hard to choose just one without feeling a sense of loss for those missed. Ditto for special films that were regularly shown. The same was true for the people. There just wasn't enough time to get to know everybody you wanted to know, and most of the people aboard the ship were so smart, so interesting, and so very nice. I am sure we could travel with that same group of people for a solid year and never tire of them.
There was just ONE thing I didn't like. It was the frequent drunkenness of so many of the Semester at Sea students. And I'm not talking about just a few drinks, that wouldn't bother me a bit. I'm talking about total inebriation. It usually occurred when we were in port, but I also saw it on the ship, despite strict rules against having alcohol in the cabins. From what I was told, this has gone on in past voyages and it will probably continue in the future. It's the one thing that I feel diminished the quality of the voyage, not just for the students involved, but for everyone who came into contact with them. There were several serious incidents during our voyage, but the most infamous incident occurred back in 1999. It was well documented by one of the professors who was aboard at the time. A student went overboard in the middle of the night, in the Red Sea, after attempting to rappel down the hull of the ship wearing a life ring.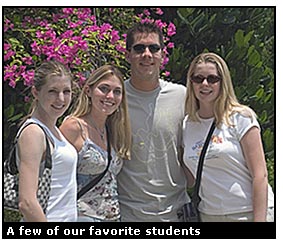 He wanted to see what the moving water felt like. (He found out, alright!) The incredible story was written up here. I would urge you to read it. (The author was on the ship again this summer and his cabin was right next to ours. We heard the story directly from him, and then he gave me the link to his old journal.)
I don't want to end on a sour note, though, because a majority of the students were good kids, really good kids. They were serious about their studying and serious about their travels. Of course they were interested in having a good time, but they partied in moderation. Over the summer they learned a lot about the countries they visited and, perhaps more importantly for some, they learned a lot about themselves. They boarded the ship in June as a "just a bunch of college kids" and disembarked sixty-five days later as mature young adults.
Semester at Sea gave me the best summer of my life. I am grateful we had the opportunity to participate. I wish everyone else could, too. Each voyage offers a number of adult passenger cabins, so if you are an adult traveler who wants to experience an SAS adventure, take a look at the adult passenger program.
---
©2002-2008 by Ginnie Saunders. All rights are reserved. No part of this web site may be reproduced or transmitted in any form or by any means — electronic or mechanical, including photocopying, recording, or by any information storage or retrieval system — without written permission from Ginnie Saunders. To learn more about copyright issues on the web, visit the Web Law FAQ.






Ginnie.com, Inc.
PO Box 50314
Columbia, SC 29250
(803) 783-3169
www.ginnie.com