Created: 11/08/04
Links:


– Newest DaDane



– Previous DaDane



– Archived DaDanes



– Copyright Policy
Available now
DaDane of DaWeek
T-shirts & Sweatshirts



Coming soon...
DaDane Notecards &
Prints





— CH VZTop Amber N Onyx —
November 8, 2004 – This week's DaDane features an elegant white-faced lady named Amber (CH VZTop Amber N Onyx) who was owned and loved by Cindy & Glenn Niske, and Lorraine & Chip Rainwater. I photographed Amber shortly before her ninth birthday. At the time she was suffering from osteosarcoma. She died just two days later. Her regal bearing and obvious dignity, plus her willingness to pose so gracefully for the camera during her last remaining days is a testament to her good breeding and her devotion to Cindy and Glenn, with whom she lived.
Last month at the annual GDCA National Specialty, Amber – who was bred by Lorraine Rainwater – was named the Great Dane Club of America's 2003 Top Brood Bitch. This highly coveted award was given to Amber because six of her puppies obtained their AKC Championship titles during 2003. Six champions in one year is no easy feat. Indeed, from a breeder's standpoint, it's pretty awesome. (Hence the award.) Perhaps even more impressive is this: During her breeding career Amber bore twelve puppies, and of those twelve, nine are finished champions. A tenth puppy needs one last 3-point major to finish his championship. After he finishes, VZTop Amber N Onyx will be named to the Great Dane Club of America's Hall of Fame. Furthermore, Amber's son Traveler (CH VZTop He's Going Places) holds the record as the youngest Great Dane in history to complete his championship, which was accomplished when he was just six months and 23 days old.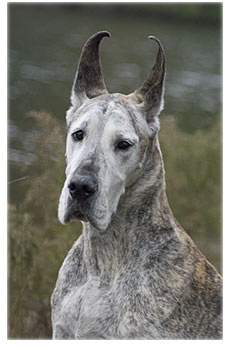 Amber's Background
As mentioned earlier, Amber was bred by Lorraine Rainwater, a well-respected breeder in the Great Dane community. Amber spent her early years with Suzie Caldwell, who showed her in the conformation ring. She shared her home with Suzie and several other Danes until a move forced Suzie to downsize her household. Amber was returned to Lorraine who placed her with Cindy and Glenn Niske because she trusted them to love and care for Amber in the manner to which she'd become accustomed. Amber quickly settled into her new home.
According to Cindy:
"Three-year-old Elaina Heckman from next door quickly became Amber's best friend. With my help, she'd spend hours dressing Amber up in old ballet and Halloween costumes to create elaborate dance productions. Amber tolerated these costume sessions because she was usually rewarded with homemade brownies and cookies, many of which were passed to her under the table by Elaina, who claimed they just kept falling out of her hand. Elaina would look at Amber with a mouth full of cookies and exclaim, 'Hamburger, you're a berry good goggie!" And that she was.

While Amber was very good with two-legged kids, she was even better with the four-legged kind. As mother to her pups, Amber was without flaw. She always knew right where to put her feet in a crowded whelping box, so as not to step on anyone. When visitors would peer through the French doors to peek at her new Dane babies, she'd stand up over the pups and bark her message loud and clear – NO VISITORS PLEASE!!! She took her job very seriously. Nothing was more important to her than those furry children.

Amber consistently produced beautiful puppies that were structurally correct according to the AKC standard for the breed. How did this come about? Certainly not by accident. By carefully evaluating the dam (her strengths and weaknesses) and by doing the same for the potential sire, by studying the pedigrees on both sides to ensure the match isn't too close or too far apart, a careful breeder will increase the odds that the 'right' genetics will be present on both sides and result in a winning combination. Then, with a little bit of luck thrown in, nature works its magic. In Amber's case, Lorraine Rainwater drew upon her years of experience to select what she considered to be the best possible studs. Over the years she was rewarded with twelve beautiful puppies, all of which continue to do her credit.

I feel privileged and honored that Lorraine and Chip chose Glenn and me to own and care for Amber. Amber, with Lorraine's guidance, taught us about proper breeding practices, care of the mother during pregnancy, and the ins-and-outs of whelping and raising of litters. Amber's legacy will live on through her offspring for years to come."
---
©2002-2008 by Ginnie Saunders. All rights are reserved. No part of this web site may be reproduced or transmitted in any form or by any means — electronic or mechanical, including photocopying, recording, or by any information storage or retrieval system — without written permission from Ginnie Saunders. To learn more about copyright issues on the web, visit the Web Law FAQ.






Ginnie.com, Inc.
PO Box 50314
Columbia, SC 29250
(803) 783-3169
www.ginnie.com