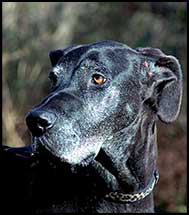 TALE OF TWO CANCERS
– Dianne Powers –
It was November, 2002, and Grace was almost seven. During a Christmas card photo session, I noted that Grace seemed a bit "off. I attributed it at the time to her everlasting disdain for being dressed up in hats for pictures, as clearly seen in Not all Grinches are Green. If you look closely at the picture to the right, you can see that the lymph nodes in Grace's groin were enlarged.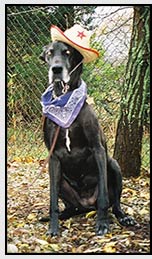 (I simply thought she was looking a little chubby, but vowed not to tell her.) Later that day I noticed enlarged lymph nodes on her neck and in her armpits. The next morning I called the vet, Dr. Connie Breese. She made time for us that very same day. That was the first sign that we were in trouble.
Canine Lymphoma
Dr. Breese took one look at Grace, who by then was walking stiffly due to the swollen lymph nodes, and said it was probably lymphoma. She felt that the quickest way to get a definitive diagnosis would be to send Grace to Tufts. She made a call and four days later we found ourselves in an examining room at Tufts. That's where my world came crashing down around me. Grace was positively diagnosed with lymphoma.
Tufts Oncology
Grace's first appointment with the oncology team at Tufts Oncology in North Grafton, MA, occurred nine days later. We agreed on a course of treatment that would begin with chemotherapy and conclude with an autologous bone marrow transplant.
Just before Christmas, eighteen days after her initial diagnosis, Grace received her first chemo treatment. The protocol administered to Grace was the VELCAP Radiation Protocol, or VC-RT. It's an aggressive 16-week chemotherapy rotation that uses the following drugs: Prednisone, Vincristine, L-asparaginase, Adriamycin, Cytoxan, Mustargen and Procarbazine. After six weeks of VC-RT treatments, the protocol is "split" depending on whether a dog's diagnosis is T-cell or B-cell lymphoma. Grace had B-cell lymphoma (stage IIIa) so she continued with the B-cell protocol for eight more weeks. The following week (week 15) was a "rest week" which was followed by a week of daily Neupogen injections in preparation for a bone marrow harvest.
| | |
| --- | --- |
| Lymphoma survival averages four to eight weeks with no treatment. With chemo only, you can expect three to six months months of remission. With chemo and a bone marrow transplant, two thirds of the patients can expect to stay in remission for up to one year. One third stay in remission longer. | |
Bone Marrow Transplant
Neupogen is a white blood cell booster and was administered to stimulate Grace's white blood cell production prior to the bone marrow harvest. The bone marrow harvest took place on week 17. This was followed by another rest week. During week 19, Grace received a large dose of Cytoxan followed by Mesna and Baytril. Forty eight hours later she received her bone marrow infusion. Week 20, all she needed was blood work (CBC/platelet).
From that point on, Grace had monthly check-ups that consisted of a physical exam and blood work. She was "clean" every time. After a year (from date of chemo start-up) she went for quarterly check-ups.
Supplementary Support
The chemo never made Grace very sick. Throughout all of the chemotherapy treatments Grace had twice-monthly acupuncture treatments to support her immune system. She also took daily doses of thymus, milk thistle and a product called Cell Forte, a dietary supplement that is supposed to enhance natural "killer cell" activity. I adjusted her diet by adding more protein in the form of meat because I had read that cancer cells thrive on carbohydrates.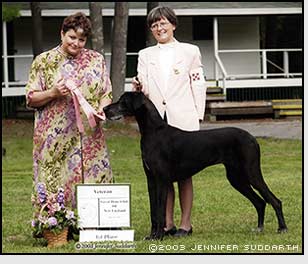 Cancer Free!
On May 30, 2003, one month following her bone marrow transplant, Grace was shown in the Veterans class at the Great Dane Club of New England Independent Specialty. She looked lovely. What followed were twelve months of bliss, enjoying every day we had together. We had always had a strong bond, but this experience brought us to a different level of connection and communication.


A "New" Cancer
In mid-May of 2004, Grace developed an unexplained limp. Palpation and manipulation of her leg showed no tenderness and no injury site. With my heart in my mouth I called Dr. Breese and told her the symptoms. Once again, she made time for us that day. We did an x-ray and it showed nothing. Grace was given Rimadyl for ten days, which did not improve her condition. By the end of two weeks Grace had gone from my "light on her feet" girl to a dog who could hardly move.
We repeated the x-rays and saw a change in the bone structure that most likely meant osteosarcoma. Dr. Breese and I discussed treatment options:
1) Do nothing
2) Palliative radiation
3) Amputation and chemotherapy
Without amputation and chemotherapy, Grace was given three months. With luck, she might make it through the summer. While I stewed over the options, Grace was put on 150mg daily of Deramaxx. In addition to the pain control action of this drug, it appears to have tumor fighting qualities. As with any drug, there are potential side effects to the digestive system, kidneys or liver. Fortunately, Grace seemed to have no problem with it. After three days on Deramaxx she was moving well again. Within a week, she was putting full weight on her leg and running.
My final decision was to do the palliative radiation, but nothing further. At that time I felt it was not in Grace's best interest to amputate. She was, afterall, a nine-year-old Dane who had already survived one form of cancer. In July she went to Tufts for palliative radiation, the first of a series of three sessions.
Location of the Tumor
At the primary appointment her oncologist acknowledged something that I had already noted. The tumor was on the bone marrow harvest site. Grace was the second dog known to Tufts who had gone through the lymphoma protocol and bone marrow transplant who later developed osteosarcoma at the harvest site. She was asked to participate in a study, but it would mean weekly trips to Tufts. After much thought I decided that was not in Grace's best interest. She was always very stressed when we were there, and I didn't want to put her through it. We went home to (hopefully)enjoy the rest of the summer.
Meanwhile, Grace received bi-monthly acupuncture which we upped to weekly in November. The hardest part of this whole process for me was feeling as though I was doing nothing. At the end of August, her limp began to be a bit more pronounced, although she continued to run every chance she got.
Amputation?
I revisited the amputation option and had her x-rayed to see if the cancer had moved to her lungs, which is the usual progression. Her lungs were clear, but again I decided that amputation was not in her best interest. Her limp continued to worsen, but she continued to defy it and enjoy life.
In November, though, she really started to change. The dog who always wanted her space when she was sleeping and had always slept in her own bed suddenly wanted to join me on the "big bed." She was staying close by. The tumor was growing again and Grace basically stopped using her leg. In January I reconsidered, one more time, the idea of amputation. We went to see an orthopedic surgeon who, coincidentally, has a three-legged dog.
After examination and a lengthy discussion which centered on the fact that outwardly – other than the cancerous leg – Grace was in incredible shape for a 9-year-old Great Dane, we agreed to x-ray her lungs. If they were clear, perhaps we'd amputate. My desire at that time was to take away her pain. It had become very clear that without that leg, Grace would be much more comfortable, and for all intents she was already a three-legged dog.
A Final Decision
Unfortunately the cancer made the decision for me because it was in her lungs. The next three weeks were the shortest and longest of my life. Grace began to go downhill very quickly, more and more uncomfortable, but at the same time more and more resolved to stick around. Ten days before I let her go, she had a seizure. Although she appeared to come back fully, I believe now that the seizure was the beginning of the end.
We let Grace go on February 1, 2005, eleven days shy of her tenth birthday. She went quietly, surrounded by love and with her favorite music, "Amazing Grace" in Navajo and Sioux.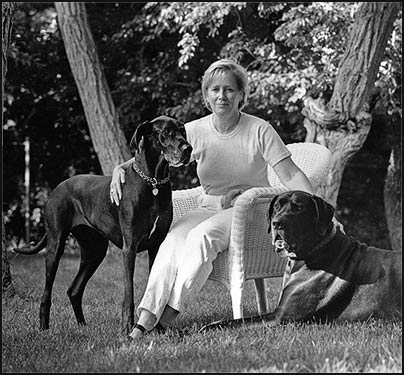 Grace, Dianne and Trouper



Grace's Legacy
I have been thinking how much Grace changed my life. Without her, for me there would have been no GDML (my first foray into special interest group email), no DaDane, no GDCA National Specialties, no Great Dane Rescue, no Great Dane Club of America Affiliate Representative – not to mention the many people I consider to be great friends. And the list could continue. I have many silly thoughts – like the knowledge that Great Dane's feet smell like popcorn (maybe other dogs do as well, but it never occurred to me to smell them), and just what the "zoomies" are. But perhaps most importantly, Grace showed me how beautiful movement in a dog could be.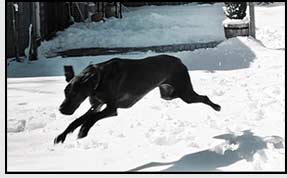 Grace was one of the prettiest moving dogs I have ever seen. She had beautiful extension and drive, plus she was exquisitely graceful. I loved nothing more than taking her to a big open field and unclipping the leash so I could watch her float in big circles, so beautiful and so happy. It took my breath away. The hardest part of osteosarcoma for both of us was her losing the ability to run like that.
I think about Grace's attitude, which was so cleverly captured in Grinches. She came by the nickname "Princess" honestly and lived by it till her last breath. She taught me about alternative therapies and opened my mind to the possibility of communication – she certainly knew how to communicate her wishes to me. She taught me about cancer (two kinds, at that) and I learned that i shouldn't believe everything I read or everything that is expected (like the fact that she should not have made it past the summer). Grace had such a strong drive to live. Her vet's favorite comment about Grace, and she made the comment many times over the past couple years, was that "Grace obviously hasn't read the book" – meaning that she had no idea that clinically she was not supposed to be alive.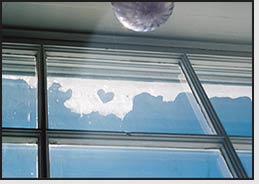 Her final life lesson to me was in seeing when it was time to let her go. Selfishly I wish I could have ignored that lesson, but she was not to be ignored. <G> I know in my heart that she is free now and running like the wind again. I believe she sent me a sign the day she passed. I was sitting on the couch and happened to look out my window. There was an ice overhang on my roof that was melting in the sun. In the middle of that overhang was a heart. Ten minutes later it was gone, melted away. What made me look out the window at that exact time, and what drew my eye to the overhang? I'd like to believe it was Grace letting me and Trouper know she was fine.