April 24, 2001 – I am pleased to announce that Jabber is finally home after seven long weeks of hospitalization. His problems are far from over, but we've come a long way. For the past three weeks Jabber has been housed at the University of Georgia's College of Veterinary Medicine. There he underwent a battery of tests. I do not have the final report yet but it appears Jabber's bone infection is subclinical, meaning he is showing no measurable signs of infection. His white count and temperature have been consistently normal, although he is being treated for a urinary tract infection (E. coli). Radiographs have been inconclusive for bone lesions. All the other blood tests indicate Jabber is healthy. He has lost a lot of weight, but he was heavier than he should have been, so that's a positive development.

Earlier Installments...

Week #1: See Jabber and learn all about TPLO.

Week #2: Jabber's first surgery. How it went and what's ahead. Also, meet Merlin. He misses Jabber.

Week #3: The first surgery failed. What went wrong and what was done in the second surgery. A slide show of Jabber at the hospital.

Week #4: The second surgery failed. Drastic measures are called for. A third surgery is performed

Week #5: Jabber has a bone infection. What next!?!

Week #6: Transferred to University of Georgia's College of Veterinary Medicine.
UGA College of Veterinary Medicine
Jabber was well-cared for at UGA. In addition to getting state-of-the-art medical care, he was housed in a very comfortable kennel and he was looked after by some really nice people. Dr. Denny Aron was in charge of Jabber's case. He runs a tight ship. Senior student Melanie Blystone was assigned to Jabber under Dr. Aron. She took special interest in Jabber's care and phoned us to report his progress every single day. Melanie copied the poem "Jabberwocky" and taped it to Jabber's kennel door. She also took pictures for us. When Melanie's rotation ended another senior student, Eric Johnson, took over. He was also very good. He kept us informed on a daily basis and he made sure Jabber got plenty of personal attention. A third student, Tricia Starnes, visited Jabber daily. Tricia is a second year student. She took an interest in Jabber after a mutual friend asked her to check on him. Thanks to Tricia (and her doggie treats) Jabber had something special to look forward to everyday. When I arrived to bring Jabber home, Tricia was in his kennel whispering sweet nothings in his ear.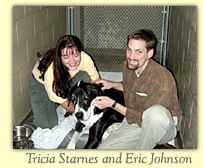 Jabber's Leg
Jabber is still wearing the external fixator. He can't use his leg at all. He won't put any weight on it. He has gained enough strength and equilibrium to hop around on three legs. He's a bit unsteady, but he generally gets where he's going. Sometimes he is able to rise by himself, other times he needs to be assisted by a sling. He doesn't move around very much because it's very tiring. Stairs are very difficult and he requires support to climb the two steps from our patio into the house.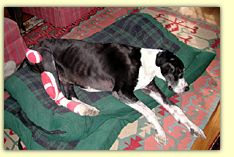 Jabber's attitude is pretty good. The first night he was home I slept on the couch to make sure he would be okay. He got me up every two hours to go outside – all night long. I wised up after that. Now he doesn't get drinking water after 9pm and he's sleeping through the night. Jabber did not eat very well at the hospital but he is eating like a horse at home. It's nice to see him enjoying his food so much.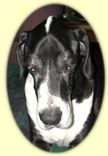 Merlin understands that Jabber is very fragile and he is careful around him, however both dogs have been barking a lot. Evidently they are keeping the homestead clear of aliens, ghosts, dognappers and other assorted riffraff. Jabber even started to chase one of our cats, but he reconsidered as soon as he tried to stand up. I guess it just wasn't worth the effort.



What's Next?
I am not sure where we'll be going from here. Jabber is supposed to go back to Charleston for follow-up care with Dr. Shealy. Maybe he will begin some limited physical therapy. Maybe the fixator will be removed. I won't know until we hear back from Dr. Shealy. When I phoned his office last week he was unavailable and I left a message. Hopefully we will reconnect soon and Dr. Shealy will resume treating Jabber.
---
DaDane of DaWeek t-shirts & sweatshirts
are available at www.dogware.com
---

These drop-down menus should work with all browsers.
If you experience a problem, please visit the hypertext-based Archives & Directory.


- Recommended Links -
DaDane's "Great Dane Links" now offers over 1000 links, sorted by category for easy browsing. Categories include health & welfare, breeding & genetics, clubs & organizations, rescue resources, breeder directory, and personal pet sites. New links are added every Monday.

Free DaDane Postcards
There are 95 electronic postcards now, including the most recent DaDane pictures. Send someone a DaDane postcard. It's virtually free! Also available: E-male postcards and FeMail postcards.

DaDane T-shirts
Your favorite DaDane postcard pictures are now available on t-shirts, turtlenecks, and sweatshirts. Please visit our DogWare website to see the latest designs. These shirts make great gifts!