April 30, 2001 – Jabber's first week at home went pretty smoothly. He is still weak and unsteady on his feet, but he is very happy to be back with his family. One member of the family was not pleased to welcome him home. Our male swan, Mr. Big, has been on a rampage. It's breeding season and the Big feels he must defend his territory against all interlopers. Unfortunately anybody he sees is considered an intruder. He launches an immediate attack. We have had more than a few confrontations over this issue, particularly when Jabber has insisted on "sling-walking" his way into the front yard. The only thing that effectively drives off an attacking swan like Mr. Big is a big heavy stick. I keep one within easy reach at all times.
Earlier Installments...

Week #1: See Jabber and learn all about TPLO.

Week #2: Jabber's first surgery. How it went and what's ahead. Also, meet Merlin. He misses Jabber.

Week #3: The first surgery failed. What went wrong and what was done in the second surgery. A slide show of Jabber at the hospital.

Week #4: The second surgery failed. Drastic measures are called for. A third surgery is performed

Week #5: Jabber has a bone infection. What next!?!

Week #6: Transferred to University of Georgia's College of Veterinary Medicine.

Week #7: Jabber finally comes home after seven weeks of hospitalization.
Jabber's Checkup
On Wednesday we drove to Charleston to see Dr. Shealy. Everyone at the clinic cheerfully greeted Jabber and asked about his progress. They were happy to see him again. Radiographs were taken and everything is looking GREAT! Dr. Shealy practically danced around the room. He said Jabber's bones are healing very well and the fixator rods are stable. Five of the seven rod sites are clean and dry with no "play" whatsoever. Two are oozing a little bit, but they are okay. Jabber's bone infection is undetectable at this point. What wonderful news!



Physical Therapy
Monday (April 30) we are going back to Charleston. Jabber will undergo five days of limited physical therapy. He will stay at the clinic Monday through Thursday and then come home for a long weekend.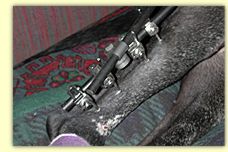 We expect to follow a Monday through Thursday rehab schedule for several weeks. His fixator rods will remain in place during this time, but the external stabilization bar will come off while they are manipulating the leg. (Then it will go right back on.) I hope to learn more about the treatment protocol and observe a therapy session later this week. Once therapy begins we'll have a better idea about the overall condition of Jabber's leg.
---
DaDane of DaWeek t-shirts & sweatshirts
are available at www.dogware.com
---

These drop-down menus should work with all browsers.
If you experience a problem, please visit the hypertext-based Archives & Directory.


- Recommended Links -
DaDane's "Great Dane Links" now offers over 1000 links, sorted by category for easy browsing. Categories include health & welfare, breeding & genetics, clubs & organizations, rescue resources, breeder directory, and personal pet sites. New links are added every Monday.

Free DaDane Postcards
There are 95 electronic postcards now, including the most recent DaDane pictures. Send someone a DaDane postcard. It's virtually free! Also available: E-male postcards and FeMail postcards.

DaDane T-shirts
Your favorite DaDane postcard pictures are now available on t-shirts, turtlenecks, and sweatshirts. Please visit our DogWare website to see the latest designs. These shirts make great gifts!