June 4, 2001 – You are looking at the very first DaDane of DaWeek portrait. It appeared over five years ago on April 26, 1996, and it featured a harlequin named Humphrey – but everyone just called him DaHumph. DaHumph was the inspiration for DaDane of DaWeek. He was not my dog. He belonged to Alan and Joyce Steinberg. Or perhaps they belonged to HIM. DaHumph was one of those extra special dogs. He was larger than life. Last week I was notified that DaHumph passed away. He was not quite six years old. What sad news.



Never a dull moment...
Some visitors to this site will remember DaHumph from the early days of the Great Dane Mail List. DaHumph was a youngster then, and he was giving poor Mr. Steinberg a run for his money. At least once a week Alan wrote to the list bemoaning DaHumph's latest escapade. You see, DaHumph was very smart, he was very headstrong and he was very mischievous.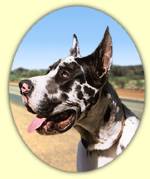 You could say he was the "Dennis the Menace" of Dane-dom. He did so many naughty things that it would be impossible to list them all. I recall that he had a particular fondness for hard-boiled eggs. They ceased to exist in the Steinberg household. He was also fond of fish. DaHumph once reached up onto the kitchen counter and dumped six pounds of Schmaltz Herring (very smelly stuff) right onto the floor. Another time he brought a live squirrel into the kitchen and released it. Let's see what else I remember... DaHumph ate a pound of espresso beans in one sitting. Another time he ate an entire bag of charcoal. In both cases he returned to stolen items to his owners within an hour, albeit in an altered state. One fine day DaHumph was running in the house and destroyed two closet doors; outside he deflated a child's swimming pool and dragged "the carcass" into the in-ground swimming pool. He then fell in and had to be rescued. Once he got his nose caught in a mouse trap and required cosmetic surgery to repair the damage. Simply put, he was a never ending parade of mischief. Eventually the Steinbergs could stand it no longer. DaHumph was enrolled in an exclusive canine training school. Unfortunately he graduated with honors. Once DaHumph was tamed the stories stopped. Many of his admirers, myself included, considered it a great loss.



And now he's gone.
DaHumph had escalating orthopedic problems that could not be corrected. When it became apparent he was in pain, when his normally sunny disposition changed, Alan and Joyce knew it was time to send their beloved Humphrey to the Bridge. Goodbye, DaHumph. May you rest in peace.



DaHumph often appeared in DaDane of DaWeek during the early years. He can be seen and remembered on these pages: Looking for Queensland, Still Looking for Queensland, Kingham Family Portrait, On the Road Again (one of my favorites), Surprise Visit, Gone to Oz and Back from Oz. DaHumph also inspired the 1040-DOG Canine Tax Form.


---
DaDane of DaWeek t-shirts & sweatshirts
are available at www.dogware.com
---

These drop-down menus should work with all browsers.
If you experience a problem, please visit the hypertext-based Archives & Directory.


- Recommended Links -
DaDane's "Great Dane Links" now offers over 1000 links, sorted by category for easy browsing. Categories include health & welfare, breeding & genetics, clubs & organizations, rescue resources, breeder directory, and personal pet sites. New links are added every Monday.

Free DaDane Postcards
There are 95 electronic postcards now, including the most recent DaDane pictures. Send someone a DaDane postcard. It's virtually free! Also available: E-male postcards and FeMail postcards.

DaDane T-shirts
Your favorite DaDane postcard pictures are now available on t-shirts, turtlenecks, and sweatshirts. Please visit our DogWare website to see the latest designs. These shirts make great gifts!