Bloat Links (Gastric Dilatation and Volvulus)



Bloat Kills!
Great Dane owners should familiarize themselves – ahead of time – with the symptoms of bloat. If your dog bloats, you may have little time to save him. Prompt (emergency) veterinary attention is essential. These links will help you recognize the symptoms and understand the possible causes of bloat.
Note: These links are provided for general information purposes only. They are not intended to replace your regular veterinarian's advice, diagnosis or treatment. We are not responsible for the opinions or content presented by linked web sites. If you would like to submit a web site to the Great Dane Links Directory, please send the site's URL (web address) along with a brief description to Great Dane Links.
---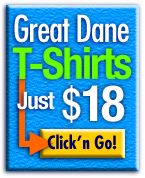 Quick Search
This internal search engine will allow you to quickly find material on this Web site.
Enter your keywords or phrases: